Georgia Center Youth Programs
UGA junior camp reimagines learning for young students
Clarke County students participated in the weeklong camp filled with STEAM activities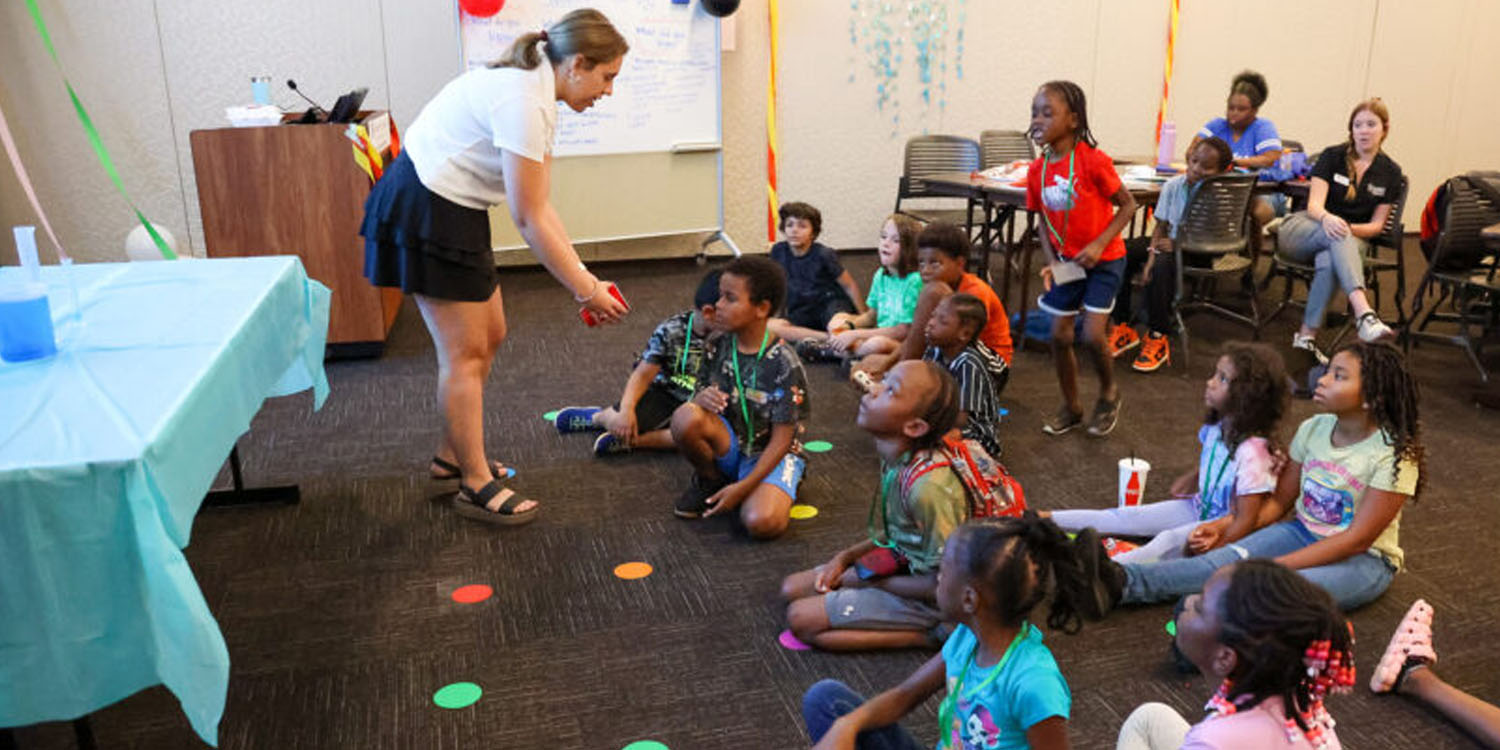 CCSD students work with UGA students on STEAM skills during the SAUGAjr (Summer Academy at UGA jr.) program at the University of Georgia Center for Continuing Education & Hotel. The camp was supported by funds from the Sahm Award. Photographer Shannah Montgomery
Since 2001, the Summer Academy at the University of Georgia (SAUGA) has focused on introducing 14- to 17-year-olds to potential careers and creative pursuits. This year, thanks to generous grant funding from the Bobbi Meeler Sahm Service and Outreach Award, SAUGA Jr., a STEAM-focused summer camp for elementary and early middle-schoolers, was added to the offerings.
Fourteen students from Alps Road Elementary and Clarke County Middle schools participated in the weeklong camp filled with STEAM activities at the University of Georgia Center for Continuing Education & Hotel from July 10-14.
"We did an experiment where we put our hand in cold water," said Destiny Williams, a rising fifth grader at Alps Road Elementary. "Then we put on a glove that has some of the stuff that keeps animal fur warm and when we tested again, it was still cold, but not so bad."
"I love this camp because I get to explore things I've never known before" said Williams.
The Sahm award, which funded the camp so there was no cost to families, was established by UGA alumna and Athens native Bobbi Meeler Sahm. She started the award to support public service and outreach efforts conducted by partnerships between the University of Georgia and Athens organizations. UGA President Jere W. Morehead was inspired by such generosity and directed additional funds to this initiative. The Office of the Vice President for Public Service and Outreach and an awards committee comprised of representatives from the university and the community oversee the distribution of these funds. This year, in addition to supporting SAUGA Jr., the award provided funds for partnerships between UGA and the Athens Area Parkinson's Support Group, Athens Area Habitat for Humanity, Downtown Ministries and Farm to Neighborhood.
The SAUGA Jr. concept was created in partnership with Alps Elementary to provide an environment for students to explore active learning in a profound and fun way while building critical writing, reading and social skills significantly deterred by the pandemic.
The students engaged in a variety of broad learning through STEAM-focused investigations on space and science, animals and their habitats, and Georgia biodiversity, resources and native plants.
"With this junior camp, we hope to provide our students with the big picture of possibilities out there for them in the future and for them to experience learning outside the classroom through a variety of styles," said Melanie James, Alps Road Elementary School principal.
"It's a powerful approach to learning for young people taking a village to mold children, and we need everyone in the community involved to do this important work."
Many of the elementary school students invited to register for the camp experienced complete disruption of their kindergarten and first-grade school years due to the COVID-19 closures.
"We are developing a curriculum to evolve with the needs of each age group we serve, and we are approaching this camp as an opportunity to break down the walls inhibiting students, encourage them to take a chance in learning something new, and hopefully help them unlock undeveloped parts of themselves," said Jessica Kallay, director of the Georgia Center youth programs.
SAUGA Jr. is designed to directly connect UGA and the Athens-Clarke County community with the goal to elevate students' curiosities through academic investigations and prepare them for learning when they return to the classroom this fall.
During an experiential art activity, Cayden Mason, a rising sixth grader, painted his nebula model while engaging in conversation with others about the previous day's activity where he held a snake and where he learned that turtles can feel their shells. Students also engaged in transition activities like the "feeling board," which allowed them to demonstrate their interest in the subject while connecting their emotions to learning.
The young students were not the only ones benefiting from the camp. SAUGA Jr. was led by UGA students who are applying skills learned in their classes to being instructors and curriculum designers for the camp. Senior education major Natalie Tyndall put her learning to action through the camp.
"I start my student teaching this fall so this has been such an amazing experience to apply what I've learned and test it out in my own classroom here," said Tyndall. "This really brings home that I'm going into the right field.
"This camp is a way to break these students out of the pandemic mindset and realign their experience and expectations of what learning really means," said Tyndall.
"We want them to know just how capable they are when they head back to school this fall."