Georgia Center Facilities Management
Planting the seeds for community engagement through partnership
The new garden features Pollinator Plant of the Year selections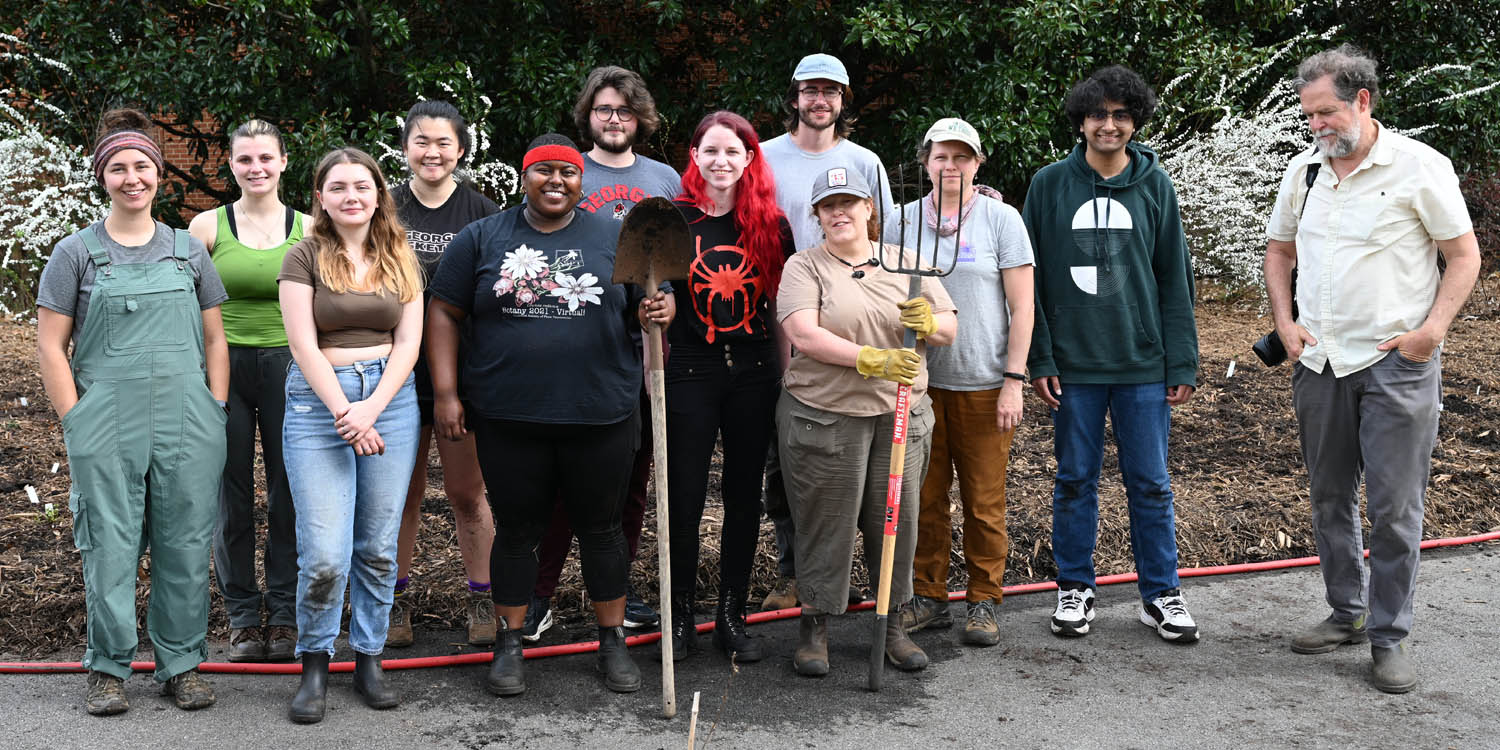 Students in the Botanical Garden of Georgia Learning by Leading program stand in front of their newly planted garden. Photographer Ezequiel Korin.
The statewide Georgia Pollinator Plant of the Year program was started by the State Botanical Garden of Georgia to annually select four plants that perform exceptionally well in gardens and provide resources for pollinators. A state-wide panel selects the plants, and the winners are promoted around the state to encourage growers to produce pollinator-friendly plants and to guide buyers toward plants that are good for supporting helpful insects.
The Georgia Center garden installation totaled 50 perennial pollinator plants, including Aromatic Astor and Blue Wild Indigo—two species from the most recent Pollinator Plant of the Year list.
"This is a small garden with a big impact," said Jaime DeRevere, Georgia Center groundskeeper. "The Georgia Center's mission is to promote further education, and this is a product of that. Through this rewarding work, we grow as a community and as a university."
The project also included Botanical Garden horticulturalists Emily Laske and Heather Alley, as well as students in the Learning by Leading program, which provides UGA students with the opportunity to learn and work directly with professionals from the Botanical Garden.
Pollinator gardens encourage everyone in a community, urban or rural, to participate in this essential activity.
"Everyone can plant a garden like this one and incorporate native plants into their landscaping and in doing so, we all can serve as environmental stewards throughout the community," said Alley.
UGA senior Claudia White, of Thomasville, helped plant the Georgia Center pollinator garden. She became interested in working with the State Botanical Garden's Connect to Protect program through resources at UGA's Office of Sustainability. A dual major in anthropology and geography, she gained a broader understanding about the "valuable impact" that Connect to Protect has on the environment, people and public service.
Connect to Protect combines public native plant displays, which often include the Georgia Pollinator Plants of the Year, with educational tools to teach the importance of incorporating pollinators into every landscape as a way to stimulate healthy ecosystems.
During the pandemic, construction and renovation projects at the Georgia Center created gaps in the landscape that turned out to be the perfect size for the pollinator garden, which was installed in the Lumpkin Plaza area adjacent to the lobby.
Jill Carnes, one of three groundskeepers at the Georgia Center, said it's crucial to take on a caretaker role for pollinating insects. "Their livelihood is our livelihood, and we benefit each other just like any other community," she said.
In addition, the botanical garden keeps a list of nurseries that sell native pollinator plants in Georgia, and they also host a native plant sale each fall.
For more information about the Georgia Pollinator Plant of the Year program and the State Botanical Garden of Georgia, visit https://t.uga.edu/8sn.