Georgia Center Food & Beverage
UGA alumni business adds to the legacy of a Georgia Center tradition
Rock House Creamery heroically steps in to supply the famous strawberry ripple ice cream for iconic pie recipe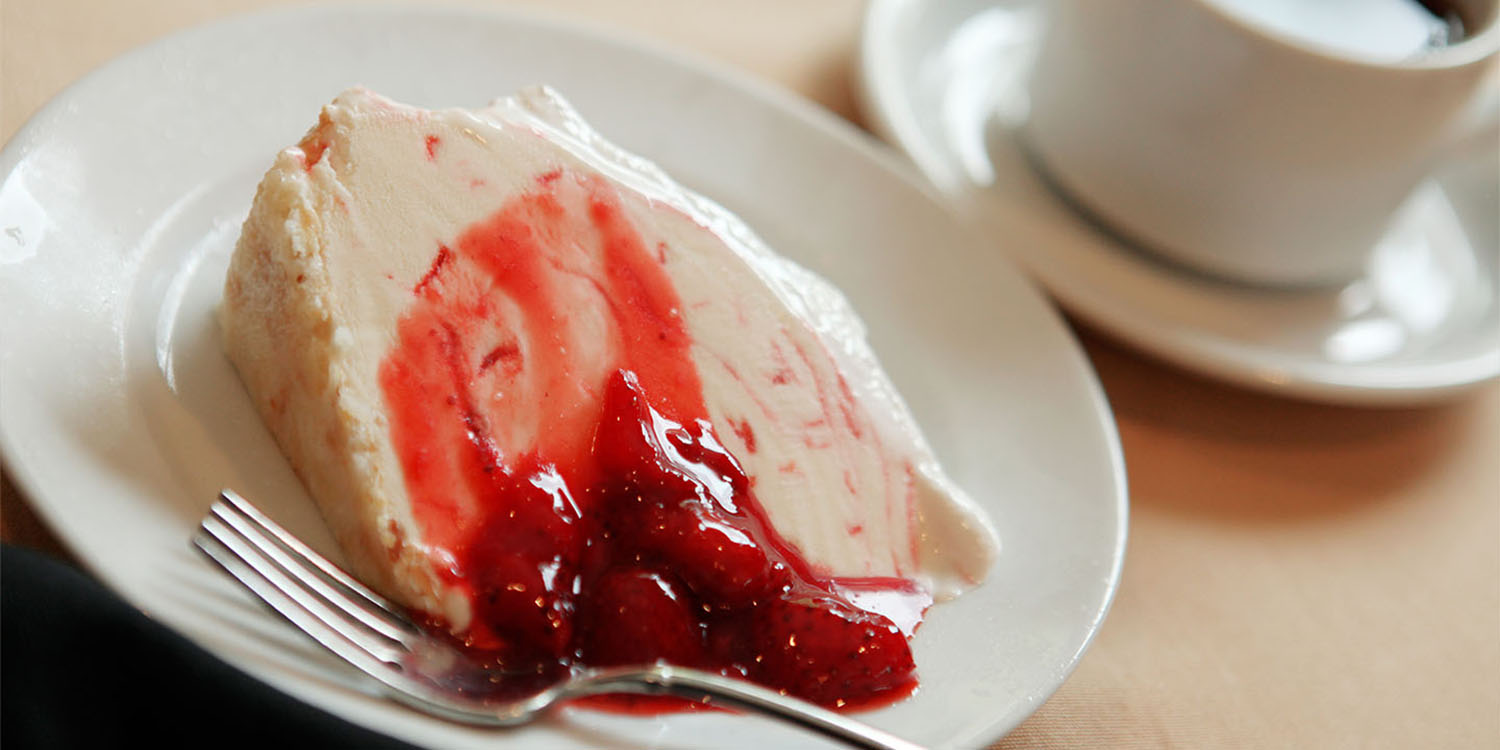 Strawberry ice cream pie is a beloved menu item at the University of Georgia Center for Continuing Education & Hotel.
A swirl of red and white atop a coconut crust, the iconic strawberry ice cream pie at the University of Georgia Center for Continuing Education & Hotel has been a highlight of the menu since the 1960s. Adding to the legacy, an alumni business, Rock House Creamery, is now the supplier of the famous strawberry ripple ice cream central to the pie.
"I can't begin to explain just how important this dessert is to so many people across the state of Georgia," said Darrell Goodman, director of Food and Beverage at the Georgia Center.
The Georgia County Clerks Association (GCCA) has been holding its annual conference at the Georgia Center for over 40 years—and strawberry ice cream pie is always on the menu.
"Every clerk looks forward to the famous strawberry pie when we are in Athens," said GCCA President Amanda Hannah. "I have new clerks ask me if we are going to have the famous strawberry ice cream pie at the conference."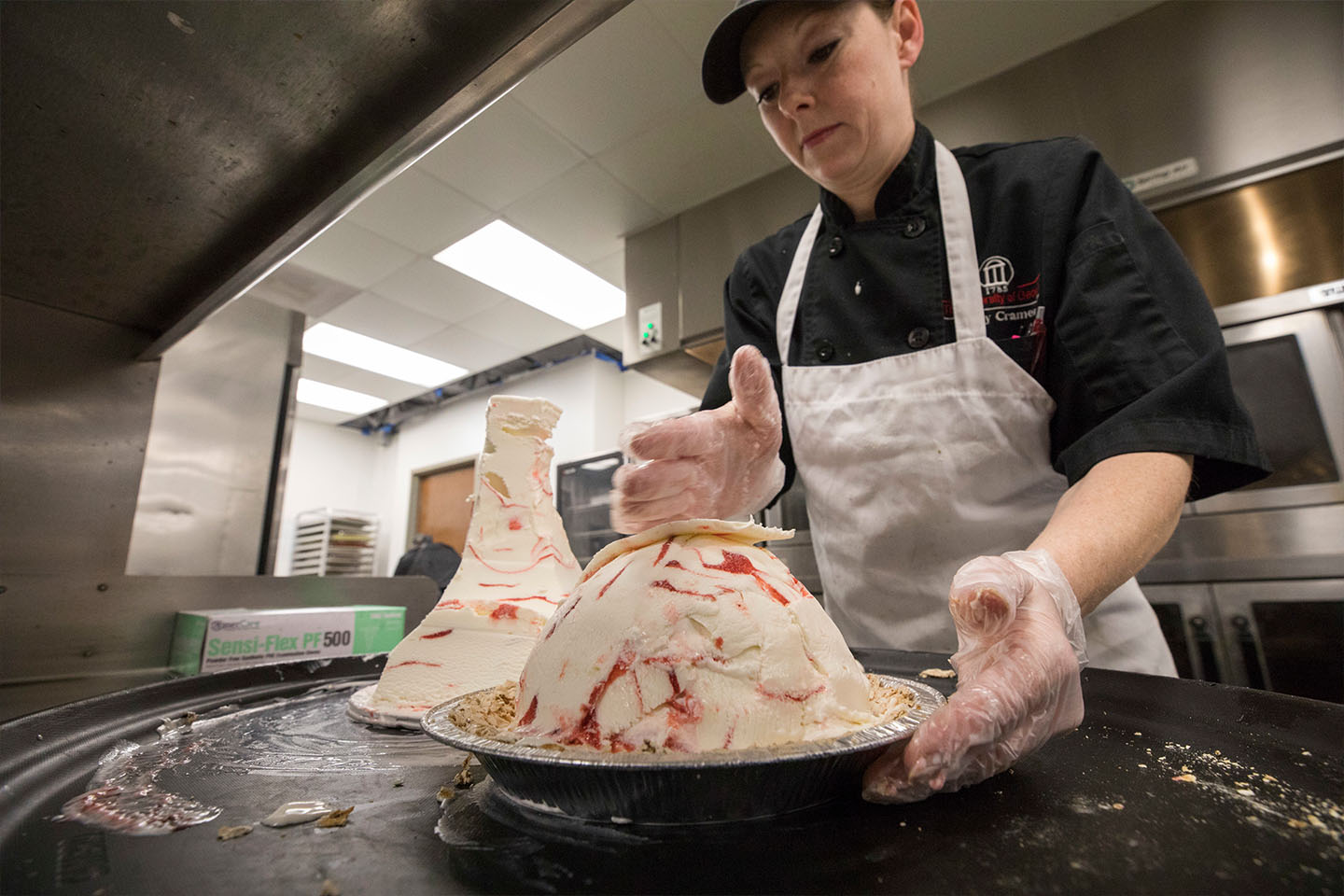 Kelly Cramer, a baker with the Georgia Center for Continuing Education & Hotel, adds ice cream to a meringue coconut crust to make strawberry ice cream pie. Photographer Peter Frey/UGA
The iconic dessert was created through swift problem-solving when an ordering mishap left the kitchen staff from the Savannah Room with 600 pounds of coconut instead of the required 60-pound quantity. The chefs found a recipe for a macaroon crust, topped it with strawberry swirl ice cream from the UGA Creamery and finished it with a meringue. Retired Savannah Room baker Luetrell Sims perfected the dessert and her influence remains in the double knife method she devised to slice the thick frozen dessert.
This year, the Georgia Center was tasked with finding a new source for the strawberry ripple ice cream when Greenwood Creamery in Atlanta closed. Greenwood had been the supplier since the UGA Creamery stopped ice cream production. When UGA actively sought a new ice cream partner, we found one right in our backyard.
The Georgia Center partnered with Rock House Creamery, a family-owned and operated business with strong ties to UGA.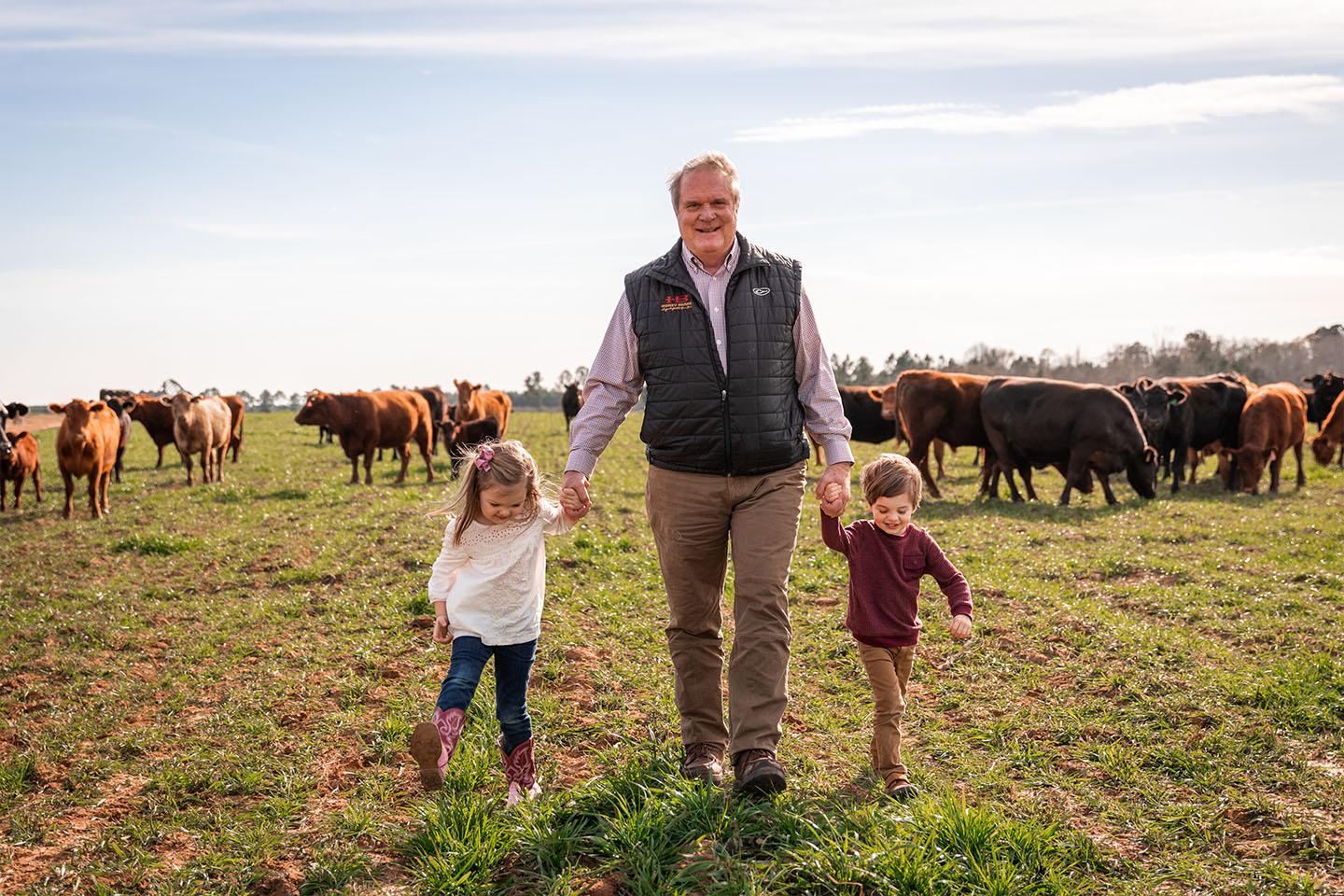 Keith Kelly walks with his grandchildren on the Rock House Creamery family farm. Photo provided by Rock House Creamery Photographer Joe McDaniel, Kelly Products, Inc. & Affiliates
Keith Kelly, owner and operator of the Rock House Farm & Creamery, is a University of Georgia College of Agricultural and Environmental Sciences alumnus and University of Georgia Foundation trustee. Keith's wife, Pam, their son Brad, and Brad's wife, Larkin, are all UGA alumni.
"We were excited by the opportunity to be a part of such a cool tradition and dessert for UGA," said Brad Kelly, Rock House vice president of operations.
Rock House Farm was established in Leesburg, Georgia, in 2005 and the creamery opened in 2016 on a 1940s family dairy farm in Newborn. Today, they specialize in grass-fed beef, pork, and artisan dairy products such as creamline ice creams, old-fashioned creamline milks, and hand-crafted cheeses.
Working with UGA's Small Business Development Center (SBDC) over the years, the Kellys received support and resources from the center to help them with business planning, financial modeling, and benefited greatly from their expertise and assistance in rolling out their partnership with Farmview Market in Madison, Georgia.
"Local small businesses like us are good with what we know, but the Small Business Development Center at UGA really helps with filling in the knowledge gaps," said Laura Rotroff, Brad's sister and vice president of Marketing and Communications for parent company Kelly Products.
Both the UGA SBDC and the Georgia Center are units of UGA Public Service and Outreach.
"It's rewarding to be able to utilize opportunities like this, to be nimble and partner with UGA in our community," said Rotroff. "After all, the community is the lifeblood of small businesses."
The continued partnership with UGA is a win all around.
"The strawberry ice cream pie is more than just a delicious dessert. It's a symbol of the Georgia Center and UGA," said Georgia Center Executive Chef Rob Harrison. "Rock House Creamery's focus on using fresh, locally sourced ingredients aligns perfectly with our values, and the partnership between the two entities is a testament to the power of collaboration and community."